Conference | Program | Access map | Hotel list | Contacts
17th International Strindberg Conference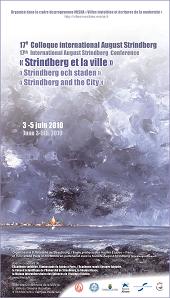 « Strindberg et la ville »
« Strindberg och staden »
« Strindberg and the City »

Maison Interuniversitaire des Sciences de l'Homme d'Alsace
Strasbourg (France)
June 3-5th, 2010
International conference organized by the university of Paris IV-Sorbonne, the university of Strasbourg and the Maison interuniversitaire des Sciences de l'Homme d'Alsace in partnership with the Strindberg Society (Strindbergssällskapet).
See the
call for papers
« Towns must disappear! » claimed Strindberg throughout his life, but he also claimed its opposite – "I love big cities" – almost as often. Big or little, loved or hated, the town plays an important role in his writings – of whatever nature they might be: prose, poetry, drama – both as abstract notion and as concrete phenomenon… It plays an important role in his life, and so it does in his letters. Oppositions like town / countryside, culture / nature, etc., are recurring patterns in almost everything he wrote, even if their content did not remain unchanged.
This conference is organized as part of the research program "
Invisible Cities and writing modernity : Toward a new Geography of identity
" which is coordinated by Aurélie Choné
Download the registration sheet : click here

registration fees :
35 euros

Communication duration :
30 min
List of abstracts :
click here
Language of the Communication :
de/en/fr/sv
Language of the manuscripts :
en/fr

Organizing commitee :
Elena Balzamo, Sylvain Briens, Thomas Mohnike
Scientific Commitee :
Elena Balzamo (École pratique des Hautes Études – Paris)
Sylvain Briens (Université Paris IV-Sorbonne)
Thomas Mohnike (Université de Strasbourg)
Per Stam (Strindbergssällskapet)
Katarina Ek-Nilsson (Strindbergssällskapet)

webmaster or any questions please contact (en/sv/de/fr):
Laurent Di Filippo
Mail :
laurent@di-filippo.fr